Jörg Rensmann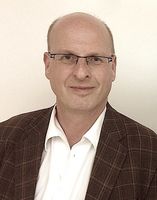 Director of Education
Jörg Rensmann is a political scientist and program director of the MFFB.
He designs seminars and educational programs, including the seminar "Educational Module Israel. Israel's Democracy and the Middle East Conflict ".
He is involved in the monitoring of school books; he gives lectures on Israeli-Arab relations, the history of Israel and Palestinian society, Hezbollah and on education and anti-Semitism in European, Palestinian and Arab societies and UNRWA, who advises organizations, politicians and government employees on strategic issues related to combating global antisemitism as part of domestic and foreign policy.
Before joining the MFFB, he worked as a consultant and coach.
He holds a degree in political science from the Free University in Berlin.
Contact: rensmann(at)mideastfreedomforum(dot)org