Press Conference: Current Antisemitism in Germany and Europe
with Rabbi Abraham Cooper, Simon Wiesenthal Center, Los Angeles
A press conference of the Simon Wiesenthal Center and the Mideast Freedom Forum Berlin
Tuesday, 16 September, 1.00 - 2.00 p.m.
Hotel de Rome, Berlin Mitte, Behrensstrasse 37
Introduction: Michael Spaney, Mideast Freedom Forum Berlin

In light of the the dramatic eruptions of blatant jew-hatred in Europe during the Israeli military operation "Protective Edge", the Simon Wiesenthal Center and the Mideast Freedom Forum Berlin organized this press conference on antisemitism in Germany and Europe. European societies and governments are faced with the difficult task of containing this new wave of antisemitism, especially its anti-Israel version.
The two organisations call upon the German government to take the necessary measures, to contain the hatred of extremist Islamists and others.
The introduction is held in German, Rabbi Cooper speaks in English. For English, please go to min.05:57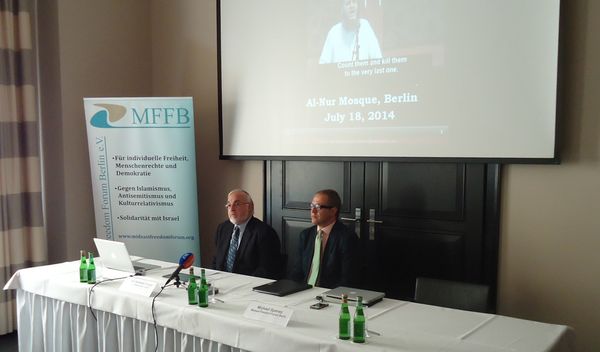 Media
Deutschlandfunk: Es muss noch mehr getan werden (9/16/2014)
Jüdische Allgemeine: Facebook, Twitter, Hass (9/17/2014)
Jerusalem Post: Wiesenthal Center calls for arrest of Denmark-based Imam (9/18/2014)
Süddeutsche Zeitung: In Schweigen vereint (9/16/2014)
Neues Deutschland: Simon Wiesenthal Center fordert neuen Antisemitismus-Beauftragten (9/17/2014)
Badische Zeitung: Beauftragter verlangt (9/18/2014)
Radio Intereconomica: El centro Simon Wiesenthal insta a Berlín a arrestar a un imán islamista (9/16/2014)
RTL (Belgien): Le Centre Simon Wiesenthal demande la création d'une vigie de l'antisémitisme (9/16/2014)
Reuters: German Muslims invite all faiths to day of prayer against Islamic State (16.9.2014)