Jewish perspectives on antisemitism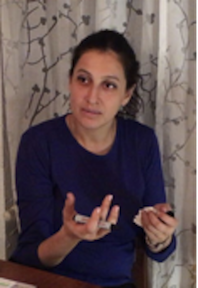 Talk and discussion with
Prof. Dr. Julia Bernstein
Professor for Social Inequalities and Experiences of Discrimination, Frankfurt University of Applied Sciences
Chair: Michael Spaney, Executive Director des Mideast Freedom Forum Berlin
Where: Humboldt Universität zu Berlin, Unter den Linden 6, Room 3038
When: Wednesday 26. September 2018 um 19 Uhr
Please register: anmeldung@mideastfreedomforum.org
This event is a cooperation of Mideast Freedom Forum Berlin and the Hochschulgruppe der Deutsch-Israelischen Gesellschaft, Berlin and Brandenburg.
During her talk, Prof. Julia Bernstein is going to present her most recent research regarding antisemitism. A focus of her study are perspectives of those affected by antisemitism in their everyday lifes, especially in schools. Besides that she is going to discuss the reception of antisemitism in the teaching staff and within school environments.
In her talk, she is going to deal with the following questions: How could "you jew" become the most common slur on german schoolyards 73 years after the Holocaust? How bad is the situation and what components does it consist of? How is racism played off against antisemitism? Which cliches are imported and which ones are domestic? What is the difference between a legitimate criticism of Israeli policies and antisemitism?
Julia Bernstein is Professor for social inequalities and experiences of discrimination at the Frankfurt University of Applied Sciences. Her research is focused on antisemitism, xenophobia and forms of racism in institutions, visual media and everyday life, questions of interculturality, the process of migration of Jews from Russian speaking countries in Israel and Germany, the impact of societal change on Jewish identities, processes of stereotypisation and ethnification.
Her publications include a report on "Jewish Perspectives on Antisemitism in Germany", a study on behalf of the German Parliament together with Andreas Zick, Andreas Hövermann and Silke Jensen.
You can find the study (in German) here: https://uni-bielefeld.de/ikg/daten/JuPe_Bericht_April2017.pdf
We are looking forward to seeing you!